Southwest Florida New Construction
Southwest Florida new construction includes luxury condominiums overlooking the Gulf, elegant estates in amenity-rich enclaves and an amazing variety of single-family homes along fantastic golf fairways and other sensational settings. For home buyers, Southwest Florida new construction offer comes with great incentives, but other benefits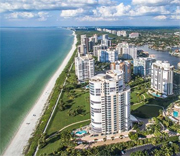 derive from the manner in which it also helps influence greater values among re-sale properties. There are presently a number of new communities emerging within our region, and our team is here to answer any questions you may have. We can readily assist you in finding the ideal home; one that not only aligns with the needs of your lifestyle, but also your budget.
As residential options among Southwest Florida new construction are not yet available through the typical Multiple Listing Services, we're prepared the following to help you better understand the various developments, amenities and home designs. By clicking on any of the different icons below, you'll be provided with images and information on the respective development. In many cases, there are pre-construction incentives available for buyers. If there's a particular community that especially appeals to you, and need for additional information, please do not hesitate to contact our team. We're happy to answer any questions you have on these developments or other properties for sale in our market.
And no matter whether you're preference is a for a lavish condominium, golf course villa or single-family home in a gated or non-gated neighborhood, merely living in Southwest Florida enables everyone to live in close proximity to area beaches and routinely experience the joy of recreational pursuits in golf, tennis and more. Combine this with the friendliness, cleanliness and sunny ambiance; it goes without saying that Southwest Florida offers an unrivaled quality of life, unlike any other community you'll ever encounter.